Archival Notice
This is an archive page that is no longer being updated. It may contain outdated information and links may no longer function as originally intended.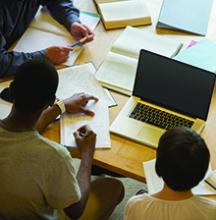 As colleges and universities across the country begin a new academic year, I want to discuss one of my high-priority goals — supporting the research activities of new and emerging scholars. These creative thinkers from a variety of disciplines are proposing innovative ideas to study and solve criminal justice problems. I am proud to offer my support in the form of fellowships and research assistantships.
This year, NIJ is taking full advantage of our long-standing fellowship programs as well as several newer ones. We are supporting a record number of fellowships this year: 32 in all. Plus we are supporting seven research assistants.
Graduate Research Fellows
NIJ's Graduate Research Fellowship (GRF) program has supported research from doctoral students across the country for more than 40 years. In 2014, NIJ split the program into two tracks – one to support social and behavioral science research and one to support science, technology, engineering and mathematics (STEM) research. Since 2000, NIJ has supported 94 GRFs. Read their biographies and what they say about the impact of NIJ's support. The application period for FY 2016 is now open. Learn how to apply.
Research Assistants
In addition to the fellows, NIJ also supports research assistantships for doctoral students with practical and applied research experience. NIJ and universities collaborate to give assistants support in the form of salary and tuition remission. Research assistants work directly with NIJ scientists to support research design strategies, manage data collection and analysis, draft publications, and assist with collaboration activities with our federal partners and regional, state, local and tribal stakeholders. NIJ has funded 32 research assistants since 2000. The call for applications for the 2016-2017 year will be issued soon. More information about research assistantships can be found on its program page.
W.E.B. Du Bois Fellows
Since 2000, the W.E.B. Du Bois Fellowship Program has helped elevate research about race, culture and gender in the national discussion about crime and justice. It has been such a successful fellowship that we are in the process of revamping and enhancing the program. Stay tuned for more information in the coming months. Read more about them on W.E.B. Du Bois fellowship page.
Visiting Fellows
The Visiting Fellows Program brings leading researchers into residency at NIJ to make foundational contributions and give them an opportunity to work side-by-side with NIJ scientists to shape the direction of our research programs. NIJ accepts several types of fellows, including those who work mainly in academic or other research settings, policy fellows who focus mainly in a criminal justice policy or practice setting, and partnership fellows who cross multiple boundaries. Eight visiting fellows have taken residency at NIJ since 2000. The application period for Visiting Fellows is opening soon. For more information visit the Visiting Fellows Program page.
AAAS Fellows
Through a partnership with the National Science Foundation and the American Association for the Advancement of Science (AAAS), NIJ supports distinguished young scholars who are selected based on their significant contributions to science and research. The partnership with NSF and AAAS is fairly new for NIJ. Last year our AAAS fellow was an engineer who devoted her time at NIJ to science and technology. This year, we are able to support three fellows who will focus on topics in the forensic sciences and in science and technology.
American Psychological Association Fellows
Another fairly new fellowship is made possible through a partnership with the American Psychological Association (APA), which funds stellar young scholars up to $100,000 per year. This year's APA fellow, who specializes in marital conflict, will be devoting his talents to NIJ's violence against women research activities.
Society for Research on Child Development Fellows
Brand new this year is a fellowship through the Society for Research in Child Development (SRCD). NIJ joins SRCD in their goal to bridge the gap between developmental science and public policy. SRCD accomplishes their mission by selecting fellows through a partnership with AAAS and placing fellows in residence in government agencies to be immersed first-hand in the process. This year, NIJ is pleased to support two SCRD fellows.
I hope in the coming months to not only fund as many young scholars as possible but to also expand the activities we offer to fellows. My staff is investigating additional avenues of support. I join NIJ's scientists in their firm believe that by supporting young scholars, we are strengthening the foundation of criminal justice research for the future.
Learn more about how NIJ is building the nation's research infrastructure in this NIJ Journal article.