2016
Jeffery Egge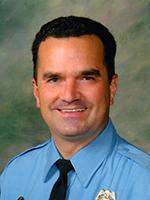 Sergeant; 2016 NIJ LEADS Law Enforcement Officer
Minneapolis Police Department
Sgt. Jeffery Egge currently serves as supervisor of Strategic Analysis for the Minneapolis Police Department (MPD) and specializes in the study of homicide, gang crime, hot spots, and research translation. With MPD, Sgt. Egge has worked in CompStat, Organized Crime, Homicide, and Patrol. Sgt. Egge holds a master's degree in police leadership, administration, and training from the University of St. Thomas, and a bachelor's degree in organizational management from Concordia University. He was a Senior Research Fellow at the Police Executive Research Forum (PERF) and has contributed to publications on crime analysis, research and planning, and predictive policing. Jeff has presented at national symposia for the Center for Evidence Based Crime Policy, Police Executive Research Forum, and the International Association of Crime Analysts. Prior to joining the MPD, he was an Investigations and Training Specialist and Loss Prevention Manager for Dayton Hudson (now Target Corp).
Jeremiah Johnson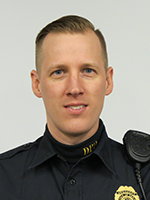 Sergeant; 2016 NIJ LEADS Law Enforcement Officer
Darien Police Department
Sergeant Johnson has served the Town of Darien (CT) for the last sixteen years. During his time as a detective sergeant, he leveraged research to increase his agency's investigative capacity by cross-training a subset of patrol officers to function as detectives. In his current role as a night shift supervisor, he lead a multi-site randomized controlled trial to test the relationship between enhanced patrol vehicle lighting and crime. Sgt. Johnson holds a bachelor's degree in sociology from Geneva College, a master's degree in justice administration from Western Connecticut State University, a master's degree in criminal justice from John Jay College, and a doctorate in criminal justice from the City University of New York Graduate Center. His dissertation research focused on the role of relational networks in diffusing law enforcement innovations.
Obed Magny
Police Officer; 2016 NIJ LEADS Law Enforcement Officer
Sacramento Police Department
Officer Magny is currently assigned to the Sacramento Police Department's Professional Standards Unit where he is responsible for writing and updating agency policies and procedures. Officer Magny has a bachelor's degree in criminal justice and sociology, a master's degree in emergency services administration, and a doctorate degree in organizational leadership. Officer Magny's research interests are in the field of motivation, job satisfaction, diversity, and emotional intelligence. Officer Magny is a strong proponent of applying scientific research in the field of policing. Officer Magny is fellow at the Police Foundation and a founding member of the American Society of Evidence Based Policing (ASEBP). Officer Magny is also an adjunct professor at Brandman University.
Joan Fiesta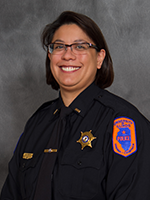 Lieutenant; 2016 NIJ LEADS Law Enforcement Officer
University of Illinois Police
The University of Illinois Police Department is a fully sworn department that serves a community of over 45,000 students and 6,000 faculty and staff members. Lieutenant Fiesta currently serves as the administrative bureau commander, overseeing the crime prevention, training, telecommunications, and records units. The University is a rich environment for research and educational opportunities; Fiesta connects researchers from various disciplines to the department. The results of the research help the department develop evidenced-based training and practices. Lieutenant Fiesta holds a bachelor's degree in rhetoric with a minor in Russian from the University of Illinois and a master's degree in organizational leadership from Gonzaga University.
Wendy H. Stiver
Major; 2016 NIJ LEADS Law Enforcement Officer
Dayton Police Department
Major Stiver was an invited presenter at an NIJ-sponsored event.
Major Stiver is the commander of the Central Patrol Division at the Dayton (OH) Police Department. She has also served as the commander of the Central Investigations Bureau and in both East and West Patrol Divisions. She holds a master's degree in criminal justice from the University of Cincinnati. She is also a graduate of the Police Executive Leadership College and Certified Law Enforcement Executive course. Major Stiver is an adjunct professor at Wright State University and teaches graduate courses in criminological theory. In addition to a current research project on police intervention in infant mortality cases, Major Stiver led a foot patrol evaluation with the University of Cincinnati, quantitative analysis on patrol officer exposure to secondary trauma and is working on a volunteer hot spot patrol project, photo enforcement compliance and a sentinel event crash reduction multi-disciplinary team review.
Greg Stewart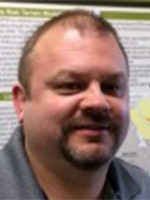 Sergeant; 2016 NIJ LEADS Law Enforcement Officer
Portland Police Bureau
Greg Stewart is a sergeant with the Portland, Oregon, Police Bureau (PPB). His 20 years of service include being a patrol officer, patrol sergeant, and investigative sergeant. He supervised the Bureau's Domestic Violence Reduction Unit and implemented an automated actuarial risk assessment system for people accused of (or convicted for) domestic violence offenses. He is currently the sergeant of the PPB's Crime Analysis Unit. His assignments include developing patrol strategies aimed at reducing crime while improving the relationship between police and community members and supervising PPB non-sworn crime analysts. In this capacity, he assists the PPB in operationalizing existing police-related research as well as conducting research on emerging issues.
Rachel Tolber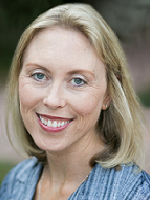 Sergeant; 2016 NIJ LEADS Law Enforcement Officer
Redlands Police Department
Sergeant Tolber has served the Redlands, California, community for 18 years. She is currently assigned to the Professional Standards Unit, where she is responsible for conducting all internal investigations, investigating citizen's complaints, and overseeing the concealed weapons licensing process. Sergeant Tolber earned her bachelor's degree in psychology and sociology from the University of Redlands and her master's degree in criminology, law, and society from the University of California, Irvine. Most recently, she earned a master's degree in applied criminology and police management from the University of Cambridge, United Kingdom. During her course of study at the University of Cambridge, she examined the feasibility of conducting a randomized controlled trial to test restorative justice among the parole population in Redlands. She is also a fellow at the Police Foundation, an adjunct instructor of criminal justice at Chaffey College, and a founding member of the American Society of Evidence-Based Policing.
Ivonne Roman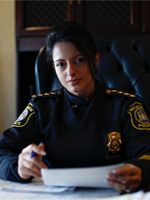 Captain; 2016 NIJ LEADS Law Enforcement Officer
Newark Police Department
Captain Roman currently commands the Criminal Investigations Bureau (CIB). CIB consists of the following units: Homicide, Major Crimes, Robbery, Special Victims, Youth Aid, Auto Squad, Crime Scene, Ballistics, Criminal Intelligence Unit, Real Time Crime Center, and the Narcotics Unit. Roman earned a master's degree in public administration from Rutgers University.

Newark Police is currently operating under a Federal Consent Decree. Roman is interested in research on police perceptions of legitimacy and procedural justice. Extant literature thoroughly explores citizens' perceptions of legitimacy, but there is a dearth of research regarding officers' perception and factors that influence those perceptions. Understanding both officers' and citizens' perceptions on these topics can have broad applications when implementing recommendations from the President's Task Force on 21st Century Policing.
Ken Clary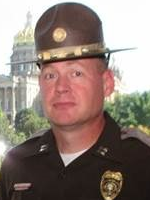 Police Chief; 2016 NIJ LEADS Law Enforcement Officer
City of Bellevue
Chief Clary was named Police Chief of the city of Bellevue, Nebraska, in August 2020. 
Prior to his current position, Ken Clary served as an Area Commander for the Iowa State Patrol (ISP), which included the oversight of four patrol districts including approximately one quarter of the State of Iowa. During his time as a Commander, Captain Clary held a variety of positions including CALEA Accreditation Coordinator for the Department of Public Safety (DPS) and Assistant Field Operations for the ISP. In these positions, he utilized research and worked with numerous law enforcement agencies to determine best practices in hiring and promotional processes, as well as resource allocation. He worked directly with the Iowa Governor's Traffic Safety Bureau (GTSB) to implement statewide police training and public education programs to combat drowsy driving. Subsequently, in June, Iowa GTSB and DPS hosted the first of its kind National Drowsy Driving Summit with the National Highway Traffic Safety Administration (NHTSA).
2015
Sheryl D. Victorian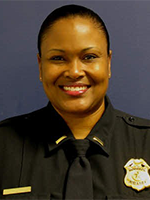 Lieutenant; 2015 NIJ LEADS Law Enforcement Officer
Houston Police Department
Lieutenant Victorian is assigned to the Special Victims Division Ð Child Sexual Abuse Unit within the Houston (TX) Police Department. In this position, Lieutenant Victorian is responsible for managing the day-to-day operations of personnel investigating sexual offenses involving child victims and children who have committed serious offenses. Lieutenant Victorian earned a doctor of philosophy degree from Texas Southern University in Administration of Justice. Her research interests include police leadership, police-community relations, and police ethics. As a result of her experience thus far as a 2015 LEADS scholar, Sheryl understands how critical her role is as both a law enforcement officer and scholar in positively affecting policy through research.
Shon Barnes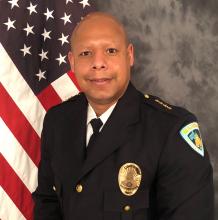 Chief; 2015 NIJ LEADS Law Enforcement Officer
Madison Police Department
Shon F. Barnes was hired as Madison Police Department's Chief of Police by the Police and Fire Commission of Madison, Wisconsin in December of 2020. He was previously the Director of Training and Professional Development for the Civilian Office of Police Accountability in Chicago, Illinois. Chief Barnes was the Deputy Chief of Police in Salisbury, North Carolina (2017-2020) and a Captain with the Greensboro Police Department (NC) where he began his career as a patrol officer in the fall of 2000. Chief Barnes was selected by the National Institute of Justice, as a 2015 LEADS Scholar, for using innovative technology to reduce crime. Chief Barnes is a council member on the National Police Foundation's Council on Policing Reforms and Race.
Chief Barnes attended Elizabeth City State University (Elizabeth City, North Carolina) where he received a B.A. Degree in History/Pre-Law, and the University of Cincinnati (Cincinnati, Ohio) where he received a master's degree in Criminal Justice. He has earned a Ph.D. in Leadership Studies from North Carolina Agricultural and Technical State University (Greensboro, North Carolina).​
Jason Potts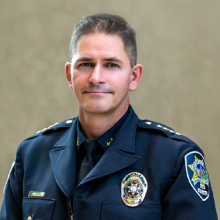 Chief; 2015 NIJ LEADS Law Enforcement Officer
Department of Public Safety, City of Las Vegas
Jason Potts leads the City of Las Vegas Department of Public Safety, which provides the public with law enforcement and detention services. This department manages the city jail and includes the deputy city marshals (who provide public safety at city parks and facilities), as well as animal protection services.
Potts started his policing career with the Vallejo Police Department in Northern California, where he moved up the ranks to captain, leading the Operations Bureau, Investigations Bureau, and Emergency Services Unit. Before his career in municipal policing, he worked for U.S. Customs and Border Protection as a border patrol agent.
During his career at the Vallejo Police Department, Potts worked in various capacities, including patrol, crime suppression, investigations, SWAT, field training, internal affairs, the FBI's Solano County Violent Gang Task Force and the Oakland Drug Enforcement Administration Task Force. He also is a military reserve special agent with the Coast Guard Investigative Service.
Potts earned a master's degree in Criminology, Law, and Society from the University of California, Irvine. He has a bachelor's degree in Management from St. Mary's College in California. He holds a certificate of completion from the Police Executive Research Forum, Senior Management Institute of Police. He is a graduate of the California Peace Officers Standards and Training Command College, Executive Development Course and is a National Institute of Justice Law Enforcement Advancing Data and Science Program alumni with the U.S. Department of Justice.
An advocate for evidence-based policing, Potts serves on the Executive Board for the American Society of Evidence-Based Policing, is a member of the Council on Criminal Justice (violent crime working group), and is a National Policing Institute fellow. He has been a strong proponent of officer safety and wellness, data-driven patrol deployments, community engagement, practitioner-led research, innovative practices and technology. In June of 2019, he was recognized nationally at George Mason University (evidence-based policing hall of fame) for his collective efforts in advocating and implementing evidence-based policing — both nationally and in his department.
Nicole Powell
Sergeant; 2015 NIJ LEADS Law Enforcement Officer
New Orleans Police Department
As a sergeant of Deputy Superintendent Rannie Mushatt's staff, Sergeant Powell's main role is a liaison between the Investigation and Support Bureau and the Public Integrity Bureau. Sergeant Powell's responsibilities include assigning, tracking and monitoring all internal investigations. She assists in the conduct of disciplinary hearings, preparing vital notifications and pertinent paperwork. She also review's staffing requirements, court attendance, policy compliance and training. In addition to those duties, Sergeant Powell conducts quarterly reviews of sex crime cases per the consent decree. Sergeant Potts believes that participating in the LEADS scholar program has been truly an amazing experience. She has gained a new perspective about partnerships related to evidence-based approaches in leadership roles and the need for effective community policing. She was honored to interact with OJP Assistant Attorney General Karol Mason and NIJ Director Dr. Nancy Rodriquez at the IACP Conference, and she looks forward to gaining knowledge and experience in continuing participation in the LEADS scholar program.
Tarrick McGuire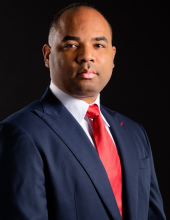 Assistant Police Chief; 2015 NIJ LEADS Law Enforcement Officer
Arlington Police Department
A native of Dallas, TX, Tarrick McGuire began a career in public service with the Arlington (TX) Police Department in 2003. During his tenure, he has served in multiple positions before being appointed to Assistant Police Chief in 2022. As a nationally recognized public speaker and published author, Chief McGuire has been a leading authority on community police relations, police pattern and practice, evidence-based policing, and public policy. In 2020, he was appointed to the Council on Police Reform and Race by the National Policing Institute and was inducted into the Evidence-Based Policing Hall of Fame in 2022.
In 2016, Chief McGuire served as a law enforcement fellow with the International Association of Chiefs of Police contributing research and technical assistance to U.S. police departments on 21st Century Policing in Washington, DC. During this period, Chief McGuire worked with the Department of Justice COPS Office and Obama Whitehouse Administration to improve policing practices, policy, and community-police relations nationally.
As a pracademic and change agent in policing, Chief McGuire was recognized by the IACP as one of the top 40 under 40 most progressive police leaders in the world. Although he has received many accolades, he is most proud of the Anthony L Sutin Department of Justice COPS Office Award for his work in community police relations and the Martin Luther King Jr. Award for Governmental Leadership.
Chief McGuire has earned a B.S. in Speech Communications from Oklahoma State University, a M.A. in Christian Leadership from Criswell College, and a Doctor of Public Administration from California Baptist University.
Erin Freidline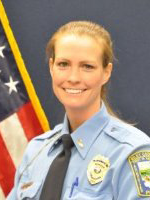 Lieutenant; 2015 NIJ LEADS Law Enforcement Officer
Riley County Police Department
Lieutenant Freidline is currently assigned to the Patrol Division of the Riley County (KS) Police Department. Within this division, Lieutenant Freidline uses data and intelligence to increase the effectiveness of their officers through using hot spot policing to try and deter and prevent crime with our intelligence unit providing a minimum of weekly updates about crime trends. As a LEADS scholar, Lieutenant Freidline has gained a new network of mid-level supervisors to communicate with in reference to solving crime problems and sharing ideas. She is also appreciative of the wealth of knowledge available through NIJ and their website, who are working just as hard to progress law enforcement in a positive direction.
Cory Nelson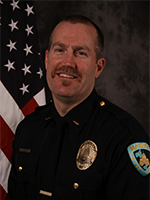 Lieutenant; 2015 NIJ LEADS Law Enforcement Officer
Madison Police Department
Lieutenant Nelson is currently in charge of the Professional Standards and Internal Affairs Office within the Madison (WI) Police Department, a department of approximately 450 commissioned and 150 civilian employees. Having never been to the IACP Conference previously, Lieutenant Nelson came away from the event very impressed; with the major take away being the importance of using data and research to make departments more efficient. After the conference, Lieutenant Nelson contacted an academic researcher at a college in Wisconsin and explained his plan to implement a domestic violence initiative that targets persons convicted of a crime. Lieutenant Nelson and the researcher plan on beginning research and discussions in January 2016.
Joshua Young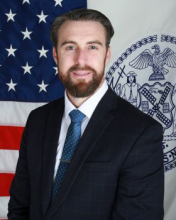 Deputy Commissioner of Management Analysis & Planning; 2015 NIJ LEADS Law Enforcement Officer
New York City Department of Corrections
Joshua Young was appointed Deputy Commissioner of Management Analysis & Planning in April 2022. Deputy Commissioner (DC) Young will be responsible for operational procedures and agency-wide policies that impact department operations as well as develop and assess budget and resource needs for critical department-wide programs, directing and overseeing in-depth analysis, reporting, and the dissemination of statistics related to the agency's goals and objectives. furthermore, DC young will act as the department's liaison with the mayor's office and oversee and direct the preparation of management reports containing detailed quantitative analysis of key statistical indicators monitored by the mayor's office.
DC Young has delivered large-scale transformation initiatives in every major branch of the criminal justice system. DC Young brings a wealth of knowledge and experience that includes; developing technological solutions and evidence based strategies to improve jail operations and services. Before joining the department, DC Young was the Deputy Senior Vice President of Justice Initiatives for the Center for Policing Equity (CPE). DC Young was responsible for strategic planning, leading cross-functional initiatives, organizational design, and change management in this position.
Mr. Young also served as a police supervisor, SWAT Operator, and Undercover Detective in Southern California. DC Young was the first known line-level police officer to successfully integrate a major randomized controlled trial (RCT) within a policing organization. This mega-study was one of the largest multi-site RCTs in the history of criminal justice research.
DC Young graduated with a master's degree in Applied Criminology and Police Management from The University of Cambridge (U.K.). He is also an Executive Fellow at the National Police Foundation, and a LEADS scholar with the National Institute of Justice.
2014
James Mac Gillis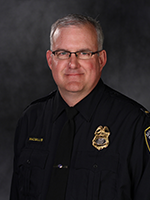 Lieutenant; 2014 NIJ LEADS Law Enforcement Officer
Milwaukee Police Academy
Lieutenant Mac Gillis serves as his agency's training lieutenant and also conducts training research for the agency. Since being selected as a LEADS scholar, Lieutenant Mac Gillis has had the opportunity to network with the Las Vegas (NV) Metro Police Department and the Washington State Police Academy; recently he has conducted a research presentation for the Shanghai, China Police College. This program is about researching best practices and sharing knowledge and experiences to improve our profession. One of the most important outcomes from this experience is that agencies must have strong executive decision-making that is evidence-based and backed by scholarly research, but must also involve those at the practical application level. LEADS is that essential practical component.
Louis A. Molina
Commissioner, New York City Department of Corrections; 2014 NIJ LEADS Law Enforcement Officer
New York City Department of Corrections
Louis A. Molina assumed the role of Commissioner of the New York City Department of Correction on January 1, 2022. He is a veteran public safety leader with experience in military, law enforcement and corrections.
Commissioner Molina most recently served as Chief for the City of Las Vegas' Department of Public Safety, where he oversaw the city's jail, deputy city marshals and other public safety officials. In 2018, Commissioner Molina served as the first deputy commissioner for the Westchester County Department of Correction. From 2016-2017, he served as Chief Internal Monitor and Acting Assistant Commissioner of the Nunez Compliance unit at NYC DOC. He started his career in law enforcement as a police officer in the NYPD and rose to the rank of Detective.
Commissioner Molina has experience modernizing correctional systems through robust programming, building staff capacity and making strategic investments that improved conditions for staff and people in custody. He has also built strong partnerships with faith-based and community leaders, and nonprofit organizations working with justice-involved people.
Commissioner Molina is a native New Yorker from the Bronx and a decorated veteran of the U.S. Marine Corps. He received a Bachelor of Arts degree in Philosophy from Chaminade University, a Master of Public Administration from Marist College School of Management, a Master of Arts degree in Human Rights Studies from Columbia University Graduate School of Arts and Sciences, and studied abroad at the University of Cambridge, United Kingdom. He was a U.S. Department of Justice/Office of Justice Programs National Institute of Justice Scholar and most recently received a scholarship from the Harvard Business School Fund for Leadership & Innovation. Commissioner Molina also has completed the Harvard Business School General Management Program.
James Nolette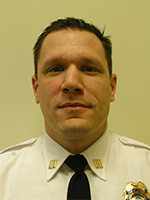 Captain; 2014 NIJ LEADS Law Enforcement Officer
Fayetteville Police Department
The Fayetteville (NC) Police Department has 443 sworn employees with an additional 200 non-sworn employees for a total of approximately 650 employees. Captain Nolette is currently assigned to the position of Executive Officer for Chief Harold Medlock and holds the rank of Captain. As part of his responsibilities in this position, Captain Nolette oversees the day-to-day operations of the Fayetteville Police Department Crime Intelligence Center (CIC). The CIC is the agency's operations center for all major investigations, incident command center and crime analysts. Each week, the CIC embeds itself into all major trend or spree crimes, and it utilizes research and technology in a way that streamlines the investigative and policing processes as to allow for the system to run smoother. The LEADS program has allowed Captain Nolette to have a network of contacts who are focused on the future of policing while maintaining contact with the day-to-day operations that are required to maintain a strong presence in the field of traditional policing.
 
Mark Landahl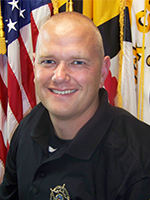 Sergeant; 2014 NIJ LEADS Law Enforcement Officer
Frederick County Sheriff's Office
Sergeant Mark Landahl, Ph.D., serves as the Supervisor of the School Resource Unit within the Homeland Security Section of the Frederick County (MD) Sheriff's Office. The 13 Deputies of the School Resource Unit provide law enforcement services to the more than 46,000 students and staff in 67 schools in the 664 square miles of Frederick County. Participation in the NIJ LEADS program provided access to law enforcement experts dealing with the latest challenges in the field and access to evidence-based practices in school-based policing that helped to improve service delivery in Frederick County.
Edward Pallas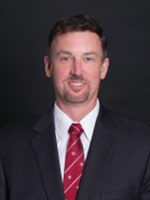 Lieutenant; 2014 NIJ LEADS Law Enforcement Officer
Montgomery County Police Department
Lieutenant Edward Pallas has been a police officer with the Montgomery County (MD) Department of Police for 21 years. He is currently the Deputy Director of the Major Crimes Division and is also a member of his department's Emergency Response Team, where he has served as a conflict/hostage negotiator for the last 15 years.

Lieutenant Pallas earned his bachelor of arts in criminal justice from the University of Maryland, College Park, and his master of science in management from Johns Hopkins University. He earned his doctor of education in organizational leadership and innovation at Wilmington University. His dissertation research investigated the relationship between emotional intelligence, leadership style, and effectiveness in police supervisors. Lieutenant Pallas is a certified IACP Master Instructor in both the Leadership in Police Organizations program and the Iraqi Police Education Program.

He is also a certified practitioner in the Myers Briggs Personality Type Indicator and the Emotional Intelligence Inventory. As a LEADs scholar he has networked with and explored the research of other police professionals from across the country. He believes the LEADS scholarship program will continue to bridge the gap between practical application and academic research required of 21st century law enforcement leaders.
Charlie Thorpe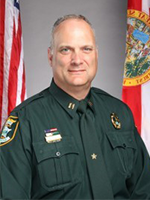 Captain; 2014 NIJ LEADS Law Enforcement Officer
Sarasota County Sheriff's Office
Captain Charlie Thorpe is a 25-year veteran of the Sarasota County (FL) Sheriff's Office. His current assignment is bureau commander of the agency's Investigations where he oversees over 100 sworn and civilian employees involved in criminal investigations, intelligence, homeland security, forensic services, victim advocacy, crime analysis and support for these sections. Captain Thorpe completed his master's degree in Criminal Justice Administration through the University of South Florida at Sarasota-Manatee while serving as the Lieutenant of the Intelligence Section. In this position, he developed a strong interest in regional collaboration with other agencies and with academia in order to promote intelligence-led policing practices for crime prevention. Captain Thorpe developed the Sarasota County Sheriff's Office current program of "Intelligence 2 Action," which places a strong emphasis on analysis-supported response to crime and hazards. The collaboration with other agencies has resulted in the area law enforcement exchange, or "ALEX" program, that has considerably enhanced information and intelligence sharing among local, state and federal law enforcement in the southwest region of Florida. Captain Thorpe takes a special interest in the effect of those who repeat or are "prolific" in the commissions of crime  on overall crime in a community. His research in this area led to his pursuit of involvement in the LEADS program. The LEADS program has become a quick success in promoting the importance of academic/practitioner relationships in building solid and efficient practices for daily policing in our nation. As this program continues, Captain Thorpe suspects the benefits will become something to behold; but the networking relationships among the LEADS scholars and their new research contacts have already proven to be exceptional.
Gary Eblan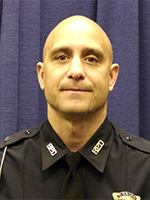 Sergeant Detective; 2014 NIJ LEADS Law Enforcement Officer
Boston Police Department
The Boston (MA) Police Department is a stalwart supporter of community policing strategies reflecting the values of the visitors and residents of Boston. As the Registrar of the Police Academy, Sergeant Detective Gary J. Eblan, M.A., has spent more than 16 of 26 years involved in the creation, design, implementation and execution of all facets of police training. The LEADS program has allowed him to expand his knowledge and resource base, and bring innovative ideas back to the Boston Police Department. Sergeant Detective Eblan now works as an investigator in the Bureau of Professional Standards, Anti-Corruption Division.
Daniel P. Brauer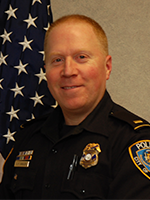 Lieutenant; 2014 NIJ LEADS Law Enforcement Officer
Glendale Police Department
In addition to his role as a patrol lieutenant serving the Glendale Police Department, Lieutenant Brauer maintains a number of other responsibilities including: TRACS administrator/trainer, department grant writer, promotional assessor, accreditation manager, dispatch center liaison, TIME System TAC, and RMS administrator/trainer. While the LEADS program may be still in its infancy, Lieutenant Brauer has already received tremendous value from the program. He feels that the combination of NIJ, the IACP, and LEADS scholars has created a brain trust that will lead to research-based innovation, problem solving, and the continued professionalization of law enforcement. He is honored to have this opportunity to work with some of the most dedicated, insightful, and intelligent members of the law enforcement community.
Date Created: April 3, 2020