Description
The National Institute of Justice's Law Enforcement Advancing Data and Science (LEADS) Program is designed to increase the research capabilities of law enforcement officers and agencies. LEADS scholars are selected in three categories: law enforcement officers, academics, and civilians. 
2021
Natasha Haunsperger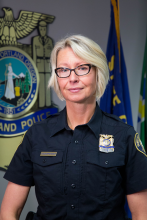 Police Officer, 2021 NIJ LEADS Law Enforcement Officer
Portland Police Bureau
Haunsperger worked with the United Nations International Police Task Force (IPTF) charged with reintegrating war zones back into Croatia proper.  Natasha joined the Portland Police Bureau in 2006, shortly after she had emigrated to Oregon from Croatia.  Her previous experiences with war refugees and conflict resolution ultimately led her to proactively focus and engage with the large multicultural/ethnic communities in the Portland area. After several years working in the Portland Police Criminal Intelligence Unit, Officer Haunsperger was assigned to the Chief's Office to establish the Office of Community Engagement,  focusing on community mapping and grass-roots justice advocacy. In her current assignment as a community engagement strategist.  Officer Haunsperger is currently working on developing holistic and innovative platforms for onboarding immigrants, refugees, communities of color, and other vulnerable and historically marginalized communities in the process of justice reforms.  

Natasha earned a Bachelor of Arts Degree in Russian Literature from Portland State University. She recently completed her Masters of Arts in Security Studies from the Homeland Security and Defense (CHDS) Naval Postgraduate School in Monterey. Officer Haunsperger also serves as a Commissioner on the Oregon Governor's Commission for Women. In addition, she engages as an advocate with groups focused on issues of gender, socio-economic justice, and civil and human rights for justice-impacted women, with a particular focus on uplifting the voices of women in the areas of domestic and international security, conflict resolution, and peace-building processes. 

Her areas of research and policy development are focused on foreign-born labor trafficking, threat assessment,  intelligence data collection; labor trafficking as an unconventional national security threat; and public trust-building as a critical infrastructure concept. 
Officer Haunsperger is committed to further academic growth and exchanging innovative ideas and visions critical to addressing emerging security-related threats.  
Henry Wang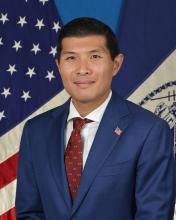 Director, Quality Assurance Division; 2021 NIJ LEADS Civilian
New York City Police Department
Henry Wang is the Director of the Quality Assurance Division within the Risk Management Bureau (RMB) of the New York City Police Department (NYPD). He leads a unit that focuses on research and analytic initiatives to minimize risk to the NYPD.  In addition, Henry has created business intelligence tools which identify, analyze, and monitor risks to the department.  Prior to working with RMB, he was the lead evaluator for the "Co-Response Teams" a joint initiative between the NYPD and New York City Department of Health which paired police officers trained in crisis intervention with social workers to serve community members presenting with mental health or substance use challenges who are at an elevated risk of harm to themselves or others. Henry was instrumental to the development of the data collection instruments and leveraged the data to create predictive models to identify the appropriate services.
Henry holds a Master of Public Health in Biostatistics and Epidemiology from the City University of New York - Hunter College.  He is specifically interested in identifying new methods for risk mitigation, early intervention, and ensuring constitutional policing.  He looks forward to working with fellow LEADS scholars to learn how they are utilizing research to inform police policy and practice.
Nick Petitti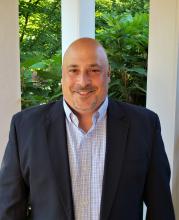 Director of Business Intelligence; 2021 NIJ LEADS Civilian
Mr. Petitti is the Director of Business Intelligence for the Rochester (NY) Police Department. He created and currently manages the department's Office of Business Intelligence (OBI), a group of diverse data analysts responsible for strategic planning and product development, data analysis, business process improvements, data transparency, and major city projects. The OBI was established to better leverage police data in support of evidence-based decision making. Mr. Petitti oversees the department's information systems applications, Open Data Portal, records and digital evidence management, and performance reporting. Currently, he is focused on the development of executive-level reporting and analytical capacity, technology integration, and strategic research and evaluation.
From 2009-2013, he ran the Crime Analysis Unit of the Rochester Police Department and was the managing analyst for the Monroe Crime Analysis Center in Monroe County, NY. Mr. Petitti has worked as an analyst since 2004, primarily focusing on issues associated with data governance and operational effectiveness. Mr. Petitti holds a B.S. in Criminal Justice from Rochester Institute of Technology, where he is an Adjunct Lecturer in the Department of Criminal Justice.
Laure Brimbal, Ph.D.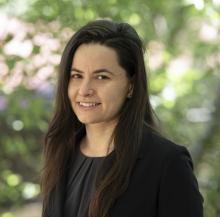 Assistant Professor; 2021 NIJ LEADS Academic
Texas State University
Dr. Laure Brimbal is an Assistant Professor in the School of Criminal Justice and Criminology at Texas State University. She obtained her Ph.D. in Psychology and Law from the Graduate Center, CUNY. Prior to joining the Texas State faculty she was a Postdoctoral Research Associate at Iowa State University. Dr. Brimbal's research interests lie at the intersection of psychology and the criminal justice system, specifically examining communication and decision making in law enforcement. Much of her research has focused on interviewing and topics such as rapport building, lie detection, the use of evidence, and how to overcome resistance. Dr. Brimbal has also conducted several training evaluation studies in partnership with local and federal law enforcement agencies. She is currently developing projects to study police communication training more broadly, especially for patrol officers' interactions with the public, de-escalation, and crisis negotiation situations. She looks forward to further collaborations through the LEADS program and integrating research and practice as a LEADS Academic.
Shawn Hill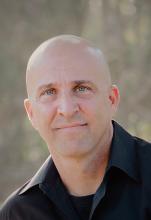 Lieutenant; 2021 NIJ LEADS Scholar
Santa Barbara Police Department
Lieutenant Shawn Hill is a 20-year veteran of the Santa Barbara Police Department. He is currently assigned to the Chief's Office and manages internal investigations, auditing, and is the liaison to civilian oversight of law enforcement. Some of his previous roles include serving in patrol, the detective bureau, training and recruitment, professional standards, and on the SWAT team. He earned a B.A. in English from Old Dominion University, an M.A. in criminal justice from Arizona State University and is currently a Ph.D. student at the University of California, Santa Barbara in the Department of Communication. His research interests include police culture, intergroup processes and their (us versus them) influence on police-public relationships, intergroup interventions, and overcoming implementation barriers to evidence-based approaches in policing.
Hill currently serves on the community policing committee of the International Association of Chiefs of Police, is a National Police Foundation Policing Fellow and a member of the Training, Education, and Standards (TES) Committee for the National Association for Civilian Oversight of Law Enforcement (NACOLE). He most recently co-authored VOICES: a theory driven intervention for improving relationships between police and the public, and co-edited the interdisciplinary, international Rowman & Littlefield Handbook of Policing, Communication, and Society.
Stephen K. Talpins, JD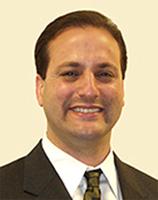 Chief Assistant State Attorney; 2021 NIJ LEADS Scholar
Miami-Dade County State Attorney's Office
Stephen K. Talpins is a Chief Assistant State Attorney at the Miami-Dade County (Florida) State Attorney's Office. He reports directly to the State Attorney and participates on the executive and other key teams. He is responsible for supervising the Felony Divisions in Unit IV, Gang Prosecutions Unit, Treatment Courts Unit, Community Outreach Division, and Media Team. He also serves as the office lead on Smart Justice programming.
Mr. Talpins is a nationally recognized author, advocate, and speaker on Smart Justice and other criminal justice related issues. He has worked collaboratively and diplomatically with public, private, and non-profit stakeholders, published dozens of articles, given well over 150 presentations, served on multiple expert panels, and participated on the Boards of three non-profit associations. His efforts have been recognized by numerous organizations and agencies, including Citizens Against Drunk Impaired Drivers, Mothers Against Drunk Driving, and the National Commission Against Drunk Driving. During the past decade, The Century Council identified Mr. Talpins as "One of the 20 People to Watch," the National Highway Traffic Safety Administration gave him a Public Safety Award, the Office of National Drug Control Policy (the office of the United States Drug Czar) named him an Advocate for Action, and the International Association of Chiefs of Police recognized him as an Ambassador of the Drug Recognition Expert (DRE) Program. Most recently, the National Institute of Justice (NIJ) selected him as a member of the 2021 Law Enforcement Advancing Data and Science (LEADS) program cohort.
Matt Tye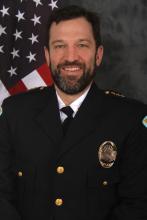 Captain; 2021 NIJ LEADS Scholar
Madison Police Department
Captain Matt Tye has been with the Madison Police Department for over 21 years. He holds a Bachelor of Arts Degree from Northwestern University and a Law Degree from the University of Wisconsin. He is currently the Captain of Community Outreach overseeing the department's Mental Health Unit, the Addiction Resource Team, as well as all department outreach engagements and restorative justice initiatives. He also works with the Madison Metropolitan School District overseeing the STOP School Violence grant and the establishment and training of threat assessment and critical response teams within the school district.  Finally, Captain Tye is the Deputy Commander of the Special Events Team responsible for crowd management within the City of Madison. Captain Tye is interested in improving the use of data analysis and evidenced based practices in the areas of criminal diversion and community engagement. 
Prior to his current assignment, Captain Tye served as a Patrol Lieutenant, a Detective Lieutenant, Detective and Police Officer. In these roles, he supervised a number of units to include the Special Victims Unit and the SWAT Crisis Negotiation Team. As a detective, he was involved in focused deterrence efforts to engage people returning from prison. 
James Barrett, Ph.D.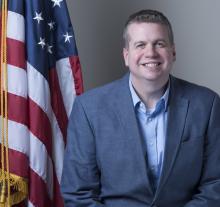 Director, Clinical Support Unit; 2021 NIJ LEADS Civilian
Cambridge Police Department
Dr. Barrett is the Director of the Clinical Support Unit at the Cambridge Police Department and an Assistant Professor of Psychology in the Department of Psychiatry (part-time) at Harvard Medical School. He is an Associate Clinical Researcher at the Health Equity Research Lab at the Cambridge Health Alliance where he received the Academic Council Award for Excellence. Dr. Barrett is the author and developer of the Fight Navigator curriculum under the Eleanor and Miles Shore Fellowship from the Harvard Medical School to address retaliatory violence in youth.  He is a member of the American Psychological Association, Association of Threat Assessment Professionals (ATAP) and the FBI's Mass Bay Threat Assessment Team. 
Dr. Barrett has presented at numerous national conferences on juvenile justice and diversion, gang violence, juvenile safety assessment, preventing retaliatory violence, and police-mental health partnerships.  He has contributed to national meetings convened by SAMHSA, the MacArthur Foundation and the International Association of Chiefs of Police.  He is a contributor to Psychology, Public Policy and the Law, Psychological Services, Adolescent Psychiatry, Journal of Applied Juvenile Justice Services, Translational Issues in Psychological Science, National Youth At-Risk Journal and The Handbook of Human Development for Health Professionals.
David Cefalu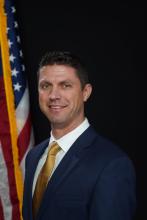 Officer; 2021 NIJ LEADS Scholar
Wauwatosa Police Department
David Cefalu began his law enforcement career with the Wauwatosa Police Department in 2006. He currently serves in the Personnel and Training Division where he is tasked with analyzing, evaluating, and assessing the recruitment and selection of police officers. He is a 14-year veteran of the department's Special Response Team and is a Defense and Arrest Tactics and Professional Communications instructor. He has served as an officer in the Patrol Division and also the Special Operations Group where he investigated violent crimes and drug trafficking.
David is also a Major in the Wisconsin Air National Guard with 20 years of service ranging from Security Forces to Command and Control. He is a Doctoral Candidate at the University of Wisconsin-Whitewater pursuing a Doctorate of Business Administration in Management. David holds a Masters of Business Administration in Public Administration from Concordia University-Wisconsin and a Bachelors of Criminal Justice from Troy University. His research interests include personnel recruitment, selection, and retention, ethics, mental health, and reintegration of military veterans.
Bill Walsh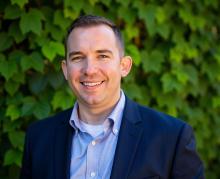 Lieutenant; 2021 NIJ LEADS Scholar
Voorhees Police Department
Lt. Bill Walsh entered public service at the age of 16 as a dispatcher prior to entering the police academy at age 20. Bill holds a master's degree in administrative science and several graduate certificates, including one in police leadership. His research and program designs were utilized to implement several initiatives including a health and wellness program with automatic wellness visits with a police psychologist, family components, and the formation of a multi-agency peer support team, which he leads. He has collaborated with several universities to develop, evaluate, and enhance initiatives and trainings. In 2019, Bill was recognized by the IACP as a 40 Under 40 awardee for his work in officer health and wellness and community engagement. He has presented at numerous conferences on wellness topics, early intervention systems, field training, and community police academies. Bill has been published on early intervention systems and both community and law enforcement mental health programming. Bill is a subject matter expert for the National Police Foundation, the IACP, and the Collaborative Reform Initiative Technical Assistance Center. Bill serves on the National Consortium on Preventing Law Enforcement Officer Suicides. He is currently working towards a second master's degree in clinical mental health counseling.
David T. Snively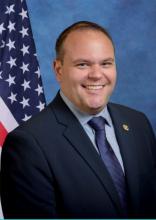 Deputy Chief of Police; 2021 NIJ LEADS Scholar
David Snively serves as the Deputy Chief of Police in Morrow, Georgia. He has been employed in public safety since 2007 and his tenure includes previous assignments in Brookhaven (GA) and Smyrna (GA), consisting of: 9-1-1, Uniform Patrol, Traffic and DUI Enforcement, Criminal Investigations, Recruiting, Accreditation, Public Information and Commander of the Training and Certification Unit.
Deputy Chief Snively is a Ph.D. candidate at Georgia State University and expects to defend his dissertation in Spring 2022. His research centers on officer- and agency-level effects of police accreditation processes, training programs, and education requirements. He holds a Bachelor of Science in Criminology from the University of West Georgia and a Master of Public Administration from Kennesaw State University, where he was named the 2016 Outstanding Master's Scholar of the Year.
Deputy Chief Snively is an FBI-LEEDA Master Public Information Officer and a Force Science Analyst. He is also a Georgia POST-Certified Master Instructor, and holds specialty instructor certifications in Use of Force, Firearms, TASER, and Standardized Field Sobriety Testing.
James Knoblach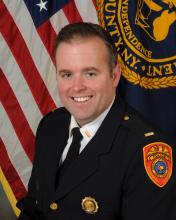 Lieutenant; 2021 NIJ LEADS Scholar
Suffolk County Police Department
Lieutenant James Knoblach has served with the Suffolk County Police Department since 2010 and is assigned to the Office of the Police Commissioner, Strategic Initiatives Bureau. In this role, he manages Department-wide initiatives by evaluating policies, programs, and resources to enhance police services provided to the County. The bureau supports the adoption of new programs in the department and guides the successful implementation of the various initiatives. He is also the Commanding officer and founder of the newly formed Behavioral Health Section. His broad law enforcement experiences include tenure in the Office of the Chief of Patrol, as a patrol supervisor, and as a police officer having served in several commands. He has a proven record in utilizing data systems to enhance operational effectiveness. Lieutenant Knoblach has incubated data-focused initiatives in a variety of law enforcement areas, such as Behavioral Health and Crisis Intervention, COVID-19 tracking and strategic response procedure, implementation of data visualization through the use of business intelligence software, and Performance Management Analytics. He holds a B.B.A. with a concentration in Finance and an M.B.A. with a concentration in Information Systems Security, both from James Madison University. He is looking forward to working with fellow LEADS scholars to research and improve the use of police data to enhance policing strategies.
Jennifer Hall
Officer, 2021 NIJ LEADS Scholar
Louisville Metro Police Department
Jennifer Hall has served the citizens of Louisville for the past 15 years in multiple roles for the Louisville Metro Police Department. She is currently assigned to the Career Development Unit as well as being the Police Training Officer Coordinator, which is part of the LMPD Training Division. Prior to this assignment, Officer Hall was a detective in the Crimes Against Children Unit.
She holds a BS in Criminal Justice from Eastern Kentucky University, a MA in Sociology from the University of Louisville, and a PhD in Applied Sociology from the University of Louisville. Her dissertation was a case study that examined the efficacy of a community policing initiative piloted by LMPD, which focused on the interconnectivity between public perception of law enforcement and the police perception of public opinion. Officer Hall has ambitions to pursue research that surrounds police training and curriculum reformation, focusing on new officers and their learning, their ability to communicate effectively, and decision-making skills. With a passion for law enforcement training, Officer Hall hopes to have an impact on mindset, officer intervention, and police culture.
Janice Iwama, Ph.D.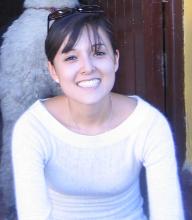 Assistant Professor; 2021 NIJ LEADS Academic
American University
Janice A. Iwama is an Assistant Professor in the Department of Justice, Law & Criminology at American University in Washington, D.C. She received her Ph.D. in Criminology and Justice Policy from Northeastern University. Dr. Iwama's primary research lies in exploring the intersection of race, ethnicity, immigration, and crime. With more than 15 years of research experience, she has worked extensively on projects with federal, state, and local government agencies examining patterns and trends using spatial and temporal analyses to develop a better understanding on the prevalence of crime and victimization given recent demographic, political, and social changes. She has collaborated with federal, state, and local law enforcement agencies in identifying best practices and providing training to prevent and reduce hate crimes, gun violence, and racial profiling in pedestrian and traffic stops. Her research has been published in peer reviewed journals and featured in national news outlets.
Jessica Huff, Ph.D.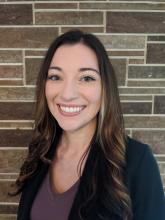 Assistant Professor; 2021 NIJ LEADS Academic
University of Nebraska at Omaha
Jessica Huff is an Assistant Professor in the School of Criminology and Criminal Justice at the University of Nebraska at Omaha. Her research revolves around evaluating police programs and policies in order to improve police effectiveness and the equitable administration of justice. She has partnered on several projects with police agencies across the US, including randomized-controlled trials of body-worn cameras, an intelligence approach to gun violence, and violence reduction strategies. She has additionally worked with police agencies to assess and enhance their capacity to identify trends in crime and officer performance in her former role as a Research Associate in the IACP/University of Cincinnati Center for Police Research and Policy and as a Senior Researcher in the Center for Violence Prevention and Community Safety at Arizona State University. Her research has been funded through sources such as the Centers for Disease Control and Prevention and the Bureau of Justice Assistance. She has published in outlets including the Journal of Criminal Justice, Journal of Experimental Criminology, and Police Quarterly. In addition to teaching statistics and policing in an academic setting, she has also provided professional crime analysis training to police practitioners from ten Caribbean nations funded by the United Nations Development Program.
2020
Scott Mourtgos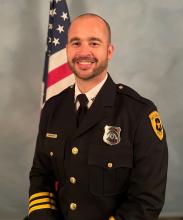 Deputy Chief; 2020 NIJ LEADS Law Enforcement Officer
Salt Lake City Police Department
Deputy Chief Scott Mourtgos has nearly two decades of service with the Salt Lake City Police Department (SLCPD). He currently oversees the Field Operations Bureau. Deputy Chief Mourtgos has previously served in patrol, narcotics, community intelligence, investigations, professional standards, and training. He also served as the Intelligence Commander for the SLCPD as a Major Cities Chiefs Association member. Deputy Chief Mourtgos holds a B.S. in Criminal Justice from Weber State University, an M.A. in Forensic Psychology from the University of North Dakota, and is a Ph.D. Candidate in the Political Science Department at the University of Utah. He is also an FBI National Academy graduate. His research interests include public perceptions of use-of-force, investigative techniques in sexual assault cases, and crime deterrence policy. He has published numerous peer-reviewed studies in academic journals, which can be accessed at https://smourtgos.netlify.app/
Victor "Tony" Galladora
Lieutenant; 2020 NIJ LEADS Law Enforcement Officer
Montgomery County Police Department
Lieutenant Victor "Tony" Galladora is a 15 year veteran of the Montgomery County (Maryland) Department of Police and is currently serving as the Executive Officer for the Field Services Bureau Chief. The Field Services Bureau includes the Public Information Division, Special Operations Division, Traffic Division, and Security Services Division. Lt. Galladora is expected to complete a Management Master's Degree with a Homeland Security Management Specialization from University of Maryland Global Campus in Fall 2020. His research interests include developing operationally significant standardized test methods for sUAS and other technological solutions to solve law enforcement problems. He is looking forward to working with fellow LEADS scholars and academics to research and implement evidence based best practices to improve the quality and efficiency of public safety.
Loren T. Atherley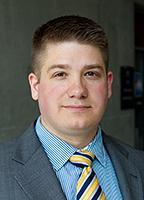 Director of Performance Analytics & Research; 2020 NIJ LEADS Law Enforcement Officer
Seattle Police Department
Loren T. Atherley serves as Director of Performance Analytics & Research (PA&R) and the Senior Research Scientist for the Seattle Police Department (SPD). The PA&R Section is a continuation of the department's internal performance, evaluation and advanced research methods capabilities, developed to demonstrate compliance with a federal Consent Decree. Loren leads a regional research consortium, a national data working group on Analytics & Evidence Based Policing (affiliated with the Major Cities Chiefs Association) and an international research network. In addition, Loren consults across the criminal justice and data sciences, including: statistics and research methods, threat assessment / threat management and violent / aggressive / psychopathic behavior, providing strategic advice to the Chief of Police and the City of Seattle, as well as other local, state and federal agencies. Loren is an Adjunct Professor of Criminal Justice at Seattle University.
Loren holds a Master's degree in Criminal Justice from Seattle University, where he completed a thesis on behavioral profiling and serial sexual homicide, which focused on Gary L. Ridgway, known commonly as the Green River Killer.
Jason Schiess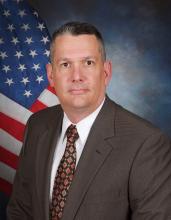 2020 NIJ LEADS Civilian
Durham Police Department
Jason Schiess has worked in the law enforcement profession for 26 years, and currently commands the Analytical Services Division at the Durham (NC) Police Department. He earned a B.S. in Business Administration from the University of Central Florida in 2001, and graduated from the Senior Management Institute for Police (PERF) in 2016. Law enforcement experience includes tours of duty at the Port Orange (FL) Police Department, Larimer County (CO) Sheriff's Officer and Grand County (CO) Sheriff's Office. Areas of concentration include corrections, uniform patrol, high-liability training, SWAT, crime analysis and intelligence.
Analytical projects include "Operation Bulls Eye," a multi-year, multi-agency enforcement initiative against violent gun crime in a two square mile area of East Durham, and the "Residential Awareness Program," which was developed to abate near-repeat residential burglaries. Jason has also served as a data partner with North Carolina Central University as part of the Research Network for Misdemeanor Justice though John Jay College of Criminal Justice. Additional research interests include integrating data across the local criminal justice system, creating a visualization tool to identify evidence-based points of intervention that effectively divert persons who offend from continuing criminality.
Eve Stephens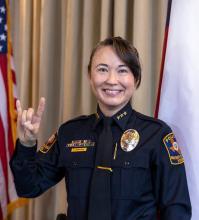 Commander; 2020 NIJ LEADS Law Enforcement Officer
Austin Police Department
Commander Eve Stephens is with the Austin Police Department and is currently assigned to the North Central Patrol Bureau. She is the 2nd Asian female to be hired by the department and is the first Asian female to promote to Sergeant , Lieutenant, and also Commander. In her tenure with the department, she has held assignments in patrol, Child Abuse, Internal Affairs, Financial Crimes, Street Narcotics, Staffing, and the Training Academy. While working in Staffing, one of Commander Stephens' responsibilities was keeping track of the demographics of the department. It was there that she first noticed the number of female officers in the department was below the national average for a major metropolitan area. This set into motion her research on female officers at APD and women in policing in general. In 2018, she created the first Women's Mentorship Program for female cadets at the Academy and paired with an academic to evaluate the program's effectiveness. Because of her work on the Mentorship Program, the Texas Police Chiefs Association asked her to participate in a committee to create a state level mentorship program for female officers. Her research passion continues to be women in police work and how to get the numbers up!
William Forrester, III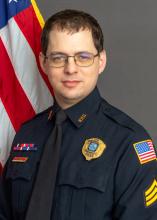 Sergeant; 2020 NIJ LEADS Law Enforcement Officer
Memphis Police Department
William Forrester began his law enforcement career with the Memphis Police Department in 2011. He served as a patrol officer at Old Allen Station, Ridgeway Station, and Tillman Station and was a member of the Memphis Police Association's Contract Negotiating Committee in 2015. In 2017, he was transferred to his current assignment in the department's Accreditation and Research Office and promoted to the rank of sergeant in 2021. William is currently serving his second term as a commissioner on the Tennessee Peace Officer Standards and Training (POST) Commission; he was initially appointed by Gov. Haslam in 2016 and was reappointed in 2019. He served on both the commission's Rules Committee and Informal Hearing Committee. William also serves as an adjunct faculty member in the Doctor of Criminal Justice Program at Saint Leo University. In addition, he is a Policing Fellow at the National Police Foundation. William holds a Ph.D. in Public Policy and Administration from Walden University and a M.S. in Criminal Justice from Bethel University. His research interests include officer retention, training, predictive policing, and internal disciplinary procedures.
Christian Cory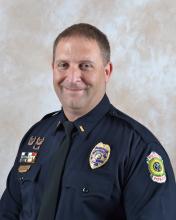 Lieutenant; 2020 NIJ LEADS Law Enforcement Officer
Wichita Police Department
Lt. Christian Cory has served on the Wichita Police Department for 21 years.  He currently leads the DV/Sex Crimes Investigations Section and is the Commander of the Crisis Negotiations Team.  Lt. Cory has previously served in the Homicide Section, DV/Sex Crimes Section, Gang/Felony Assault Unit, Crisis Negotiation, and Patrol.  Lt. Cory has obtained his B.S. in Criminology at Kansas State University and his M.A. in Forensic Psychology at the University of North Dakota.  Lt. Cory's interests and expertise involve science-based interviewing & interrogation, rapport development, de-escalation, cognitive interviewing, and increasing the effectiveness of law enforcement investigations through communication.  Recently Lt. Cory has collaborated with researchers and practitioners to bring a science-based interviewing field validation study and the curriculum to the Wichita Police Department.
Gio Veliz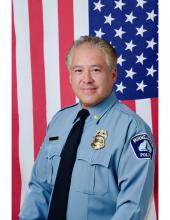 Commander; 2020 NIJ LEADS Law Enforcement Officer
Minneapolis Police Department
Gio Veliz has served the citizens of Minneapolis since 1992 with a philosophy to improve community trust and police services. His prior assignments include administrative sergeant to the Chief, investigations, patrol and Director of Police Activities League.
He leads the Special Crimes Investigations Division and works in partnership with multiple stakeholders to develop recommendations to eliminate traffic fatalities, juvenile racial disparity as well as reduce the backlog of sexual assault kits.
He holds a BS from John Jay College, an MA in leadership from Saint Thomas University and is an PhD candidate at Hamline University. His doctoral research focuses on the intersection of police legitimacy and immigrant communities. Additionally, he is an alumni of the Northwestern Police Command School, an alumni of the Senior Executive in Local Government program at the Harvard Kennedy School and a 2016 Bush Fellowship recipient.
He is married and he and his wife enjoy walks with their dogs. He is grateful for his spouse's reminders that his role as a public servant is not a job but an opportunity to serve the community. He will take this opportunity to lead research projects and implement best practices to enhance police services in Minneapolis.
Shaun L. Ward
2020 NIJ LEADS Law Enforcement Officer
Charlotte-Mecklenburg Police Department
Shaun L. Ward, D.M. is a service-minded change agent focused on the people side of change. He is seasoned law enforcement professional with nearly 20 years of service. He has proven success in community engagement initiatives, program development and implementation, problem solving, leadership and policy development, strategic development, directing and executing community service activities, operations management, threat management, project coordination, and program analysis. Dr. Ward currently serves as a research community affiliate and advisor to the University of North Carolina at Charlotte High-reliability Systems, Emotions, and Risk within Organizations (H.E.R.O.) Lab, which is dedicated to researching topics that are meaningful to scholars, practitioners, and communities at-large.  His research interests are in occupational health and safety, relational process, employee and community well-being. 
Colby Dolly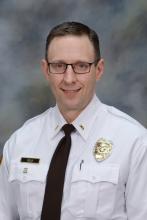 Lieutenant; 2020 NIJ LEADS Law Enforcement Officer
St. Louis County Police Department
Lieutenant Dolly is a twenty-year veteran of the St. Louis County Police Department and currently responsible for the research, policy, and analysis function of the department.  Before his current assignment, he has held positions in patrol, the training academy, and the Chief's Office.  Lieutenant Dolly leads a team that produces all crime analysis products and operating policies for the department.  Over the course of several years, his team has produced dozens of policies based on evidence and best practices. His research interests include using institutional theory to explain change in policing practices and hopes to collaborate with other LEADS scholars to study the career outcomes of officers.  Lieutenant Dolly has a master's degree in Public Administration and is currently in the dissertation phase of a Ph.D. in Political Science at the University of Missouri St. Louis.  He looks forward to using the LEADS program as a means to improve policing in the St. Louis region
Date Created: April 3, 2020