Description
The National Institute of Justice's Law Enforcement Advancing Data and Science (LEADS) Programs are designed to increase the research capabilities of law enforcement officers and agencies. 
Date Created: April 3, 2020
2014
Edward Pallas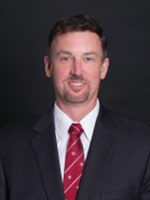 Lieutenant
Montgomery County Police Department, Gaithersburg, MD
Lieutenant Edward Pallas has been a police officer with the Montgomery County (MD) Department of Police for 21 years. He is currently the Deputy Director of the Major Crimes Division and is also a member of his department's Emergency Response Team, where he has served as a conflict/hostage negotiator for the last 15 years.

Lieutenant Pallas earned his bachelor of arts in criminal justice from the University of Maryland, College Park, and his master of science in management from Johns Hopkins University. He earned his doctor of education in organizational leadership and innovation at Wilmington University. His dissertation research investigated the relationship between emotional intelligence, leadership style, and effectiveness in police supervisors. Lieutenant Pallas is a certified IACP Master Instructor in both the Leadership in Police Organizations program and the Iraqi Police Education Program.

He is also a certified practitioner in the Myers Briggs Personality Type Indicator and the Emotional Intelligence Inventory. As a LEADs scholar he has networked with and explored the research of other police professionals from across the country. He believes the LEADS scholarship program will continue to bridge the gap between practical application and academic research required of 21st century law enforcement leaders.
Gary Eblan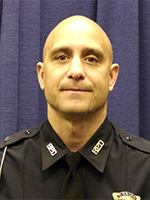 Sergeant Detective
Boston Police Department, Boston, MA
The Boston (MA) Police Department is a stalwart supporter of community policing strategies reflecting the values of the visitors and residents of Boston. As the Registrar of the Police Academy, Sergeant Detective Gary J. Eblan, M.A., has spent more than 16 of 26 years involved in the creation, design, implementation and execution of all facets of police training. The LEADS program has allowed him to expand his knowledge and resource base, and bring innovative ideas back to the Boston Police Department. Sergeant Detective Eblan now works as an investigator in the Bureau of Professional Standards, Anti-Corruption Division.
James Mac Gillis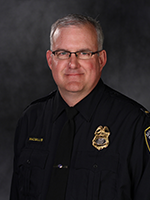 Lieutenant
Milwaukee Police Academy, Milwaukee, WI
Lieutenant Mac Gillis serves as his agency's training lieutenant and also conducts training research for the agency. Since being selected as a LEADS scholar, Lieutenant Mac Gillis has had the opportunity to network with the Las Vegas (NV) Metro Police Department and the Washington State Police Academy; recently he has conducted a research presentation for the Shanghai, China Police College. This program is about researching best practices and sharing knowledge and experiences to improve our profession. One of the most important outcomes from this experience is that agencies must have strong executive decision-making that is evidence-based and backed by scholarly research, but must also involve those at the practical application level. LEADS is that essential practical component.
James Nolette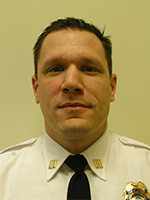 Captain
Fayetteville Police Department, Fayetteville, NC
The Fayetteville (NC) Police Department has 443 sworn employees with an additional 200 non-sworn employees for a total of approximately 650 employees. Captain Nolette is currently assigned to the position of Executive Officer for Chief Harold Medlock and holds the rank of Captain. As part of his responsibilities in this position, Captain Nolette oversees the day-to-day operations of the Fayetteville Police Department Crime Intelligence Center (CIC). The CIC is the agency's operations center for all major investigations, incident command center and crime analysts. Each week, the CIC embeds itself into all major trend or spree crimes, and it utilizes research and technology in a way that streamlines the investigative and policing processes as to allow for the system to run smoother. The LEADS program has allowed Captain Nolette to have a network of contacts who are focused on the future of policing while maintaining contact with the day-to-day operations that are required to maintain a strong presence in the field of traditional policing.

Read more about Captain Nolette's experience in the LEADS program in the NIJ Journal article Using Research to Move Policing Forward.
Louis A. Molina
Senior Advisor for Security & Emergency
New York City Department of Homeless Services, New York, NY
As senior advisor to the agency, Mr. Molina provides strategic advisement and expert consultancy on all security and emergency operations within the agency to include the agency's 700+ Peace Officer force. Mr. Molina has over 16 years of law enforcement and public safety experience that includes his work with the New York City Police Department, as senior police instructor with the U.S. Department of State, and as New York University Department of Public Safety and Deputy Chief with Kings County District Attorney's Office prior to being appointed senior advisor at NYC Department of Home Services. The NIJ LEADS program connected him with other law enforcement experts from across the U.S. who contributed to his process in transitioning the agency's police culture from an occupational to a professional mindset using evidence-based practices to enhance investigations and public safety.
Mark Landahl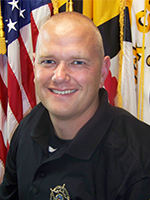 Sergeant
Frederick County Sheriff's Office, Frederick, MD
Sergeant Mark Landahl, Ph.D., serves as the Supervisor of the School Resource Unit within the Homeland Security Section of the Frederick County (MD) Sheriff's Office. The 13 Deputies of the School Resource Unit provide law enforcement services to the more than 46,000 students and staff in 67 schools in the 664 square miles of Frederick County. Participation in the NIJ LEADS program provided access to law enforcement experts dealing with the latest challenges in the field and access to evidence-based practices in school-based policing that helped to improve service delivery in Frederick County.
Charlie Thorpe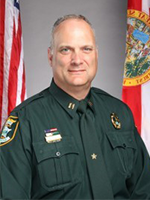 Captain
Sarasota County Sheriff's Office, Sarasota, FL
Captain Charlie Thorpe is a 25-year veteran of the Sarasota County (FL) Sheriff's Office. His current assignment is bureau commander of the agency's Investigations where he oversees over 100 sworn and civilian employees involved in criminal investigations, intelligence, homeland security, forensic services, victim advocacy, crime analysis and support for these sections. Captain Thorpe completed his master's degree in Criminal Justice Administration through the University of South Florida at Sarasota-Manatee while serving as the Lieutenant of the Intelligence Section. In this position, he developed a strong interest in regional collaboration with other agencies and with academia in order to promote intelligence-led policing practices for crime prevention. Captain Thorpe developed the Sarasota County Sheriff's Office current program of "Intelligence 2 Action," which places a strong emphasis on analysis-supported response to crime and hazards. The collaboration with other agencies has resulted in the area law enforcement exchange, or "ALEX" program, that has considerably enhanced information and intelligence sharing among local, state and federal law enforcement in the southwest region of Florida. Captain Thorpe takes a special interest in the effect of repeat or "prolific" offenders on crime in a community. His research in this area led to his pursuit of involvement in the LEADS program. The LEADS program has become a quick success in promoting the importance of academic/practitioner relationships in building solid and efficient practices for daily policing in our nation. As this program continues, Captain Thorpe suspects the benefits will become something to behold; but the networking relationships among the LEADS scholars and their new research contacts have already proven to be exceptional.