Description
The National Institute of Justice's Law Enforcement Advancing Data and Science (LEADS) Programs are designed to increase the research capabilities of law enforcement officers and agencies. 
Date Created: April 3, 2020
2017
John J. Hall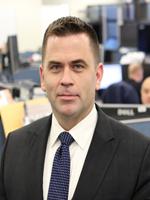 Captain
New York City Police Department, Bronx, NY
Captain John Hall is the Executive Officer of the 48th Precinct in the Bronx. During his tenure with the New York City Police Department, he has held positions in the Patrol Services Bureau, Narcotics Division, and Policy Office. His current position involves overseeing the administrative functions of the precinct and implementing the department's new neighborhood policing program. Captain Hall has a bachelor's degree in biology from Cornell University and holds master's degrees in public administration and urban informatics from the Harvard Kennedy School of Government and New York University's Center for Urban Science and Progress, respectively. Captain Hall is interested in predictive analytics and the policy surrounding its use in policing.
Jonas H. Baughman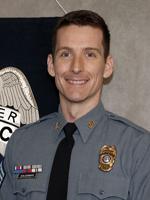 Sergeant
Kansas City Police Department, Kansas City, MO
Sergeant Jonas Baughman is a 14-year veteran of the Kansas City Police Department (KCPD). A native of the Kansas City area, Sergeant Baughman joined the KCPD after obtaining a B.A. in psychology from Creighton University. He has held assignments in patrol, investigations, and crime and intelligence analysis during his tenure. Sergeant Baughman quickly found crime analysis to be his professional passion, and more than half of his career has been in positions related to crime or intelligence analysis. He has served as a crime analyst, created and supervised the KCPD's first Real-time Crime Center team, and directed a squad of detectives tasked with gang intelligence. Sergeant Baughman's primary interests include spatial analysis and predictive policing, as well as data mining and data visualization. He is also interested in building upon his background in psychology through exploration of wellness programs for America's law enforcement officers, including physical and psychological well-being. Sergeant Baughman feels there is much to be learned by working with international police departments, allowing law enforcement agencies to leverage best practices from across the globe. He looks forward to networking with and learning from others within the LEADS program, and hopes this will ultimately make communities across America, including Kansas City, safer places to call home.
Aimee A. Haley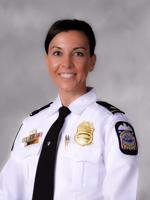 Lieutenant
Columbus Division of Police, Columbus, OH
Lieutenant Aimee Haley was sworn in with the Columbus Division of Police in 1997 and has served as the division's accreditation manager since 2011. In this role she has been responsible for overseeing nearly every policy and publication of the largest municipal police department in the state of Ohio. Comparing those policies with others around the nation and the world has equipped her to identify progressing trends and best practices in law enforcement. She is responsible for quickly evaluating and assessing processes and systems to efficiently ensure continuous improvement of her agency. As the current president of the State of Ohio Accreditation Resource Coalition (SOAR), and assessor for the Commission on Accreditation for Law Enforcement (CALEA), Lieutenant Haley knows the value of a professional peer network and anticipates growing that network both in depth and breadth through her participation in the LEADS program.
Chad DePew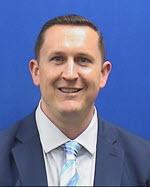 Chief of Police for the Kettering Health Network (KHN)
Police and Security Department in Dayton, Ohio
The KHN Police and Security Department has over 100 sworn police officers and 45 security/civilian employees and provides police and security services to 13 hospitals and medical facilities in a six-county region in southwest Ohio. Chief DePew is a graduate of the 264th class of the FBI National Academy, the Ohio Association of Chiefs of Police (OACP) Certified Law Enforcement Executive program, the OACP's Police Executive Leadership College, and the Northwestern University School of Police Staff and Command. Chief DePew holds a bachelor's in criminal justice from Ohio University, a master's in criminal justice administration from Miami University, and is currently working on his MBA from Louisiana State University. Chief DePew is also an adjunct professor at Sinclair Community College. He has previously conducted research on drug overdose data collection methods and is currently part of a team researching cardiovascular disease risk factors in police officers. As a LEADS scholar, Chief DePew is honored to have the opportunity to work with other scholars and contribute to research to aid the advancement of the criminal justice field.
Myron Holubiak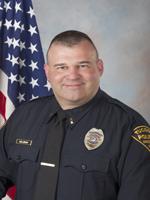 Lieutenant
Tucson Police Department, Tucson, AZ
Lieutenant Myron Holubiak has served the community of Tucson, Arizona since 1998. He is assigned to the Analysis section, which creates data-driven analyses of patrol deployments, criminal intelligence, and other policy, strategic, and operational metrics. Lieutenant Holubiak oversees the CompStat and Research and Analysis units, and the Tucson Real-time Analytical Crime Center (TRACC), which provides tactical intelligence to responding operations units through ad hoc research. Previously, he supervised Audit and Best Practices, which analyzes department-member uses of force and researches industry standards, guiding the design of policies and operational practices. He is a graduate of the University of Arizona.
2016
Obed Magny
Police Officer
Sacramento Police Department, Sacramento, CA
Officer Magny is currently assigned to the Sacramento Police Department's Professional Standards Unit where he is responsible for writing and updating agency policies and procedures. Officer Magny has a bachelor's degree in criminal justice and sociology, a master's degree in emergency services administration, and a doctorate degree in organizational leadership. Officer Magny's research interests are in the field of motivation, job satisfaction, diversity, and emotional intelligence. Officer Magny is a strong proponent of applying scientific research in the field of policing. Officer Magny is fellow at the Police Foundation and a founding member of the American Society of Evidence Based Policing (ASEBP). Officer Magny is also an adjunct professor at Brandman University.
Daniel Stewart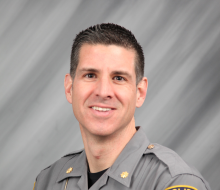 Captain
Oklahoma City Police Department, Oklahoma City, OK
After joining the department in January 1999, Captain Stewart spent the early part of his career in patrol and served as a field training officer, firearms instructor, and control and defensive tactics instructor. He spent several years in Recruiting before being promoted to the rank of lieutenant in 2009. He spent four years in Operations before being assigned to the Planning and Research Unit. During this assignment, Daniel surveyed other law enforcement agencies and conducted thorough research on topics that benefited the department, such as vehicle equipment and early intervention systems. Additionally, he helped to develop written directives on critical projects such as body-worn cameras and Naloxone. He was promoted to the rank of Captain in 2015. As Captain, he spent time in Operations as a Shift Commander and in Investigations as the Property Crimes Commander. Currently Captain Stewart is assigned to the Administration Bureau where he oversees Planning and Research, Fleet Management, Staff Inspections and CALEA Accreditation.
Rachel Tolber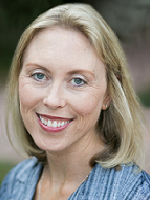 Sergeant
Redlands Police Department, Redlands, CA
Sergeant Tolber has served the Redlands, California, community for 18 years. She is currently assigned to the Professional Standards Unit, where she is responsible for conducting all internal investigations, investigating citizen's complaints, and overseeing the concealed weapons licensing process. Sergeant Tolber earned her bachelor's degree in psychology and sociology from the University of Redlands and her master's degree in criminology, law, and society from the University of California, Irvine. Most recently, she earned a master's degree in applied criminology and police management from the University of Cambridge, United Kingdom. During her course of study at the University of Cambridge, she examined the feasibility of conducting a randomized controlled trial to test restorative justice among the parole population in Redlands. She is also a fellow at the Police Foundation, an adjunct instructor of criminal justice at Chaffey College, and a founding member of the American Society of Evidence-Based Policing.
Greg Stewart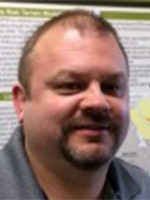 Sergeant
Portland Police Bureau, Portland, OR
Greg Stewart is a sergeant with the Portland, Oregon, Police Bureau (PPB). His 20 years of service include being a patrol officer, patrol sergeant, and investigative sergeant. He supervised the Bureau's Domestic Violence Reduction Unit and implemented an automated actuarial risk assessment system for domestic violence offenders. He is currently the sergeant of the PPB's Crime Analysis Unit. His assignments include developing patrol strategies aimed at reducing crime while improving the relationship between police and community members and supervising PPB non-sworn crime analysts. In this capacity, he assists the PPB in operationalizing existing police-related research as well as conducting research on emerging issues.
Wendy H. Stiver
Major
Dayton Police Department, Dayton, OH
Major Stiver was an invited presenter at an NIJ-sponsored event.
Major Stiver is the commander of the Central Patrol Division at the Dayton (OH) Police Department. She has also served as the commander of the Central Investigations Bureau and in both East and West Patrol Divisions. She holds a master's degree in criminal justice from the University of Cincinnati. She is also a graduate of the Police Executive Leadership College and Certified Law Enforcement Executive course. Major Stiver is an adjunct professor at Wright State University and teaches graduate courses in criminological theory. In addition to a current research project on police intervention in infant mortality cases, Major Stiver led a foot patrol evaluation with the University of Cincinnati, quantitative analysis on patrol officer exposure to secondary trauma and is working on a volunteer hot spot patrol project, photo enforcement compliance and a sentinel event crash reduction multi-disciplinary team review.
Ivonne Roman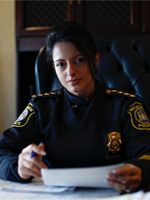 Captain
Newark Police Department, Newark, NJ
Captain Roman currently commands the Criminal Investigations Bureau (CIB). CIB consists of the following units: Homicide, Major Crimes, Robbery, Special Victims, Youth Aid, Auto Squad, Crime Scene, Ballistics, Criminal Intelligence Unit, Real Time Crime Center, and the Narcotics Unit. Roman earned a master's degree in public administration from Rutgers University.

Newark Police is currently operating under a Federal Consent Decree. Roman is interested in research on police perceptions of legitimacy and procedural justice. Extant literature thoroughly explores citizens' perceptions of legitimacy, but there is a dearth of research regarding officers' perception and factors that influence those perceptions. Understanding both officers' and citizens' perceptions on these topics can have broad applications when implementing recommendations from the President's Task Force on 21st Century Policing.
James T. Williams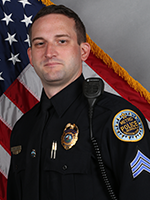 Sergeant
Metro Nashville Police Department, Nashville, TN
Sergeant Williams is the supervisor over the DUI Enforcement Unit for the Metropolitan Nashville Police Department. During his time with the department, he has served as an officer in patrol, Crash Investigator and Reconstructionist, and patrol supervisor. In his current position, Sergeant Williams is responsible for analyzing crash and arrest data pertaining to driver impairment and develops intervention strategies. He also supervises the investigation of crashes involving life-threatening injuries and fatalities. Sergeant Williams has a bachelor's degree in sociology from the University of Kentucky and a master's degree in Public Policy and Administration from Northwestern University. For his master's thesis, Sergeant Williams researched the use and effectiveness of predictive analytics to inform enforcement strategies aimed at reducing traffic-related deaths and offenses.
Jeffery Egge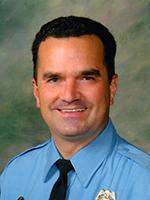 Sergeant
Minneapolis Police Department, Minneapolis, MN
Sgt. Jeffery Egge currently serves as supervisor of Strategic Analysis for the Minneapolis Police Department (MPD) and specializes in the study of homicide, gang crime, hot spots, and research translation. With MPD, Sgt. Egge has worked in CompStat, Organized Crime, Homicide, and Patrol. Sgt. Egge holds a master's degree in police leadership, administration, and training from the University of St. Thomas, and a bachelor's degree in organizational management from Concordia University. He was a Senior Research Fellow at the Police Executive Research Forum (PERF) and has contributed to publications on crime analysis, research and planning, and predictive policing. Jeff has presented at national symposia for the Center for Evidence Based Crime Policy, Police Executive Research Forum, and the International Association of Crime Analysts. Prior to joining the MPD, he was an Investigations and Training Specialist and Loss Prevention Manager for Dayton Hudson (now Target Corp).
Jeremiah Johnson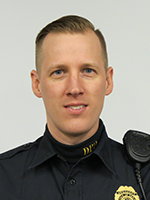 Sergeant
Darien Police Department, Darien, CT
Sergeant Johnson has served the Town of Darien (CT) for the last sixteen years. During his time as a detective sergeant, he leveraged research to increase his agency's investigative capacity by cross-training a subset of patrol officers to function as detectives. In his current role as a night shift supervisor, he lead a multi-site randomized controlled trial to test the relationship between enhanced patrol vehicle lighting and crime. Sgt. Johnson holds a bachelor's degree in sociology from Geneva College, a master's degree in justice administration from Western Connecticut State University, a master's degree in criminal justice from John Jay College, and a doctorate in criminal justice from the City University of New York Graduate Center. His dissertation research focused on the role of relational networks in diffusing law enforcement innovations.
Joan Fiesta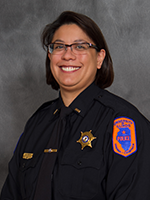 Lieutenant
University of Illinois Police, Urbana, IL
The University of Illinois Police Department is a fully sworn department that serves a community of over 45,000 students and 6,000 faculty and staff members. Lieutenant Fiesta currently serves as the administrative bureau commander, overseeing the crime prevention, training, telecommunications, and records units. The University is a rich environment for research and educational opportunities; Fiesta connects researchers from various disciplines to the department. The results of the research help the department develop evidenced-based training and practices. Lieutenant Fiesta holds a bachelor's degree in rhetoric with a minor in Russian from the University of Illinois and a master's degree in organizational leadership from Gonzaga University.
Ken Clary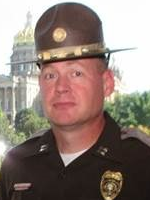 Police Chief, LEADS Scholar
City of Bellevue
Chief Clary was named Police Chief of the city of Bellevue, Nebraska, in August 2020. 
Prior to his current position, Ken Clary served as an Area Commander for the Iowa State Patrol (ISP), which included the oversight of four patrol districts including approximately one quarter of the State of Iowa. During his time as a Commander, Captain Clary held a variety of positions including CALEA Accreditation Coordinator for the Department of Public Safety (DPS) and Assistant Field Operations for the ISP. In these positions, he utilized research and worked with numerous law enforcement agencies to determine best practices in hiring and promotional processes, as well as resource allocation. He worked directly with the Iowa Governor's Traffic Safety Bureau (GTSB) to implement statewide police training and public education programs to combat drowsy driving. Subsequently, in June, Iowa GTSB and DPS hosted the first of its kind National Drowsy Driving Summit with the National Highway Traffic Safety Administration (NHTSA).
2015
Nicole Powell
Sergeant
New Orleans Police Department, New Orleans, LA
As a sergeant of Deputy Superintendent Rannie Mushatt's staff, Sergeant Powell's main role is a liaison between the Investigation and Support Bureau and the Public Integrity Bureau. Sergeant Powell's responsibilities include assigning, tracking and monitoring all internal investigations. She assists in the conduct of disciplinary hearings, preparing vital notifications and pertinent paperwork. She also review's staffing requirements, court attendance, policy compliance and training. In addition to those duties, Sergeant Powell conducts quarterly reviews of sex crime cases per the consent decree. Sergeant Potts believes that participating in the LEADS scholar program has been truly an amazing experience. She has gained a new perspective about partnerships related to evidence-based approaches in leadership roles and the need for effective community policing. She was honored to interact with OJP Assistant Attorney General Karol Mason and NIJ Director Dr. Nancy Rodriquez at the IACP Conference, and she looks forward to gaining knowledge and experience in continuing participation in the LEADS scholar program.
Cory Nelson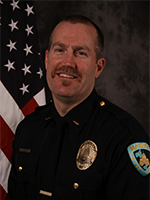 Lieutenant
Madison Police Department, Madison, WI
Lieutenant Nelson is currently in charge of the Professional Standards and Internal Affairs Office within the Madison (WI) Police Department, a department of approximately 450 commissioned and 150 civilian employees. Having never been to the IACP Conference previously, Lieutenant Nelson came away from the event very impressed; with the major take away being the importance of using data and research to make departments more efficient. After the conference, Lieutenant Nelson contacted an academic researcher at a college in Wisconsin and explained his plan to implement a domestic violence initiative that targets offenders. Lieutenant Nelson and the researcher plan on beginning research and discussions in January 2016.
Sheryl D. Victorian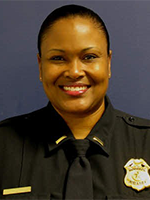 Lieutenant
Houston Police Department, Houston, TX
Lieutenant Victorian is assigned to the Special Victims Division Ð Child Sexual Abuse Unit within the Houston (TX) Police Department. In this position, Lieutenant Victorian is responsible for managing the day-to-day operations of personnel investigating sexual offenses involving child victims and child perpetrators. Lieutenant Victorian earned a doctor of philosophy degree from Texas Southern University in Administration of Justice. Her research interests include police leadership, police-community relations, and police ethics. As a result of her experience thus far as a 2015 LEADS scholar, Sheryl understands how critical her role is as both a law enforcement officer and scholar in positively affecting policy through research.
Shon Barnes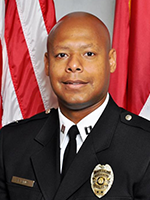 Deputy Chief
Salisbury Police Department, Salisbury, NC
Major Shon F. Barnes is a valued member of the Salisbury Police Department (NC) and serves as the Deputy Chief of Police. His duties include implementing stratified policing (an evidence-based crime reduction model) and overseeing the department's community policing strategies. Major Barnes has completed a quasi-experimental research project regarding the implementation of predictive policing analytics. These analytics are built upon a meta-analysis predictive policing algorithm, based on five years of reported crime data in an effort to reduce crime. His current research, in association with North Carolina Agricultural and Technical State University, focuses on the role of hot spot policing and the impact this strategy has on racial disparities in traffic stop data. Findings from this research have guided recommendations for other law enforcement agencies. Major Barnes credits the LEADS program and the IACP conference with bridging the gap between research and practice.
Erin Freidline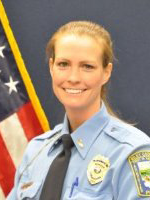 Lieutenant
Riley ?County Police Department, Manhattan, KS
Lieutenant Freidline is currently assigned to the Patrol Division of the Riley County (KS) Police Department. Within this division, Lieutenant Freidline uses data and intelligence to increase the effectiveness of their officers through using hot spot policing to try and deter and prevent crime with our intelligence unit providing a minimum of weekly updates about crime trends. As a LEADS scholar, Lieutenant Freidline has gained a new network of mid-level supervisors to communicate with in reference to solving crime problems and sharing ideas. She is also appreciative of the wealth of knowledge available through NIJ and their website, who are working just as hard to progress law enforcement in a positive direction.
Tarrick McGuire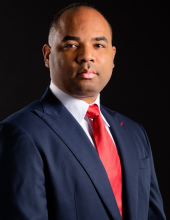 Lieutenant/Sector Commander
Arlington Police Department, Arlington, TX
Tarrick McGuire, a native of Dallas, TX, has a B.S. in Speech Communications from Oklahoma State University and an M.S. in Leadership from Criswell College. Currently he serves as a Lieutenant for the Arlington (TX) Police Department with a diverse law enforcement background in criminal investigations, personnel and recruiting, tourism policing, and police operations. As Director of Mentoring Arlington Youth, he is working to increase legitimacy among young men in communities of color and conducting research on ways to reduce juvenile recidivism. As a LEADS scholar he has been able to enhance his law enforcement knowledge incorporating best practices in programs and policy in his organization.
Jason Potts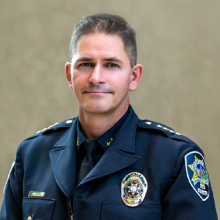 Captain
Vallejo Police Department, Vallejo, CA
Captain Potts was an NIJ LEADS Scholar.
Jason Potts has over 20 years of law enforcement experience. He is a Lieutenant with the Vallejo Police Department where he has served for 18 years & currently assigned to the patrol division as a watch commander where he leads the department's field training program. Jason is also a military Reserve Special Agent with the Coast Guard Investigative Service (CGIS) and routinely travels to Fort Leonard Wood Missouri to assist with the instruction of trauma-informed interviewing techniques to military agents. Jason has completed two randomized controlled trials (RCT) in his department Ð one testing the effectiveness of automatic license plate readers and the other testing the deterrent effects of code-2 lights on auto burglaries and theft in a high-density shopping center. In addition to the above, Jason conducted a quasi-experiment on theft deterrent strategies during the holiday shopping season where a multitude of interventions were tested. He, along with another police practitioner recently implemented a third randomized experiment Ð launched at the annual ASEBP conference to test how virtual reality training may inform future police training.

He is a strong advocate for evidence-based policing (EBP) and serves on the board of directors for the American Society of Evidence-Based Policing (ASEBP), is a Police Foundation Fellow, a BetaGov Fellow with NYU, and a National Institute of Justice (NIJ) LEADS alumni. He has written and presented nationally about his experiences implementing EBP. Jason earned a Master of Advanced Studies (MAS) in Criminology, Law, and Society from the University of California - Irvine. He holds a certificate of completion from the Police Executive Research Forum, Senior Management Institute of Police #68, 2018.
Joshua Young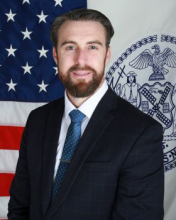 Corporal
Ventura Police Department, Ventura, CA
Lieutenant Victorian is assigned to the Special Victims Division - Child Sexual Abuse Unit within the Houston (TX) Police Department. In this position, Lieutenant Victorian is responsible for managing the day-to-day operations of personnel investigating sexual offenses involving child victims and child perpetrators. Lieutenant Victorian earned a doctor of philosophy degree from Texas Southern University in Administration of Justice. Her research interests include police leadership, police-community relations, and police ethics. As a result of her experience thus far as a 2015 LEADS scholar, Sheryl understands how critical her role is as both a law enforcement officer and scholar in positively affecting policy through research.
2014
Daniel P. Brauer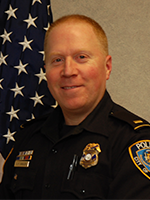 Lieutenant
Glendale Police Department, Glendale, WI
In addition to his role as a patrol lieutenant serving the Glendale Police Department, Lieutenant Brauer maintains a number of other responsibilities including: TRACS administrator/trainer, department grant writer, promotional assessor, accreditation manager, dispatch center liaison, TIME System TAC, and RMS administrator/trainer. While the LEADS program may be still in its infancy, Lieutenant Brauer has already received tremendous value from the program. He feels that the combination of NIJ, the IACP, and LEADS scholars has created a brain trust that will lead to research-based innovation, problem solving, and the continued professionalization of law enforcement. He is honored to have this opportunity to work with some of the most dedicated, insightful, and intelligent members of the law enforcement community.