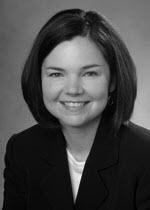 Professor
Michigan State University
Dr. Rebecca Campbell is a Professor of Psychology and Program Evaluation at Michigan State University. For the past 20 years, she has conducted victimology research and evaluation, with an emphasis on violence against women and children. Her work examines how rape crisis centers and the legal, medical, and mental health systems respond to the needs of adult, adolescent, and pediatric victims of sexual assault. Her current work, funded by the National Institute of Justice, focuses on Sexual Assault Nurse Examiner (SANE) programs and the criminal justice system.
She has published over 75 scientific papers and two books on these topics, and has conducted over 150 presentations at state, national, and international conferences. Over her career, she has received over $7.5 million in research funding from the National Institute of Mental Health, the Centers for Disease Control and Prevention, and most recently, the National Institute of Justice. She has received numerous research and teaching awards, including the 2008 Early Career Award from the American Psychological Association for Distinguished Contributions to Psychology in the Public Interest.
Dr. Campbell holds a Ph.D. in community psychology from Michigan State University.
View Dr. Campbell's presentation or read the transcript.