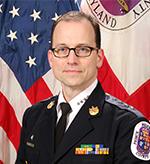 Chief Stawinski has been a featured presenter at National Institute of Justice hosted events.
Hank Stawinski has served as the Chief of Police for the Prince George's County Police Department since January 1, 2016. He is the son of a Sergeant who retired from the Department and a life-long resident of Prince George's County where he lives with his wife of 16 years and their daughter. He began his law enforcement career with the Department in 1992.
The Department is comprised of 2,000 sworn and civilian members, commands a budget of $301 million and serves nearly one million residents across 486 square miles along the eastern border of Washington, D.C. From July of 2013 until his appointment as Chief of Police, Hank was responsible for the Bureau of Patrol which includes seven district stations and the Special Operations Division. As the Deputy Chief of Patrol, he led the transition to data-driven, prevention oriented policing. He also plays a key role in developing County Executive Rushern Baker's, "Transforming Neighborhoods Initiative."
His three assignments prior to serving in Patrol include serving as the Deputy Chief for the Bureau of Forensic Science & Intelligence, Chief of Staff to the Chief of Police, and Deputy Inspector General for the Department. In his 23 years of service, he has played a role in the Department's seven successful bids for accreditation, founded and supervised the Behavioral Sciences Services Unit, and continues to lead the "Arrive Alive" officer driving safety campaign.
Hank holds a Bachelor of Science in Biology from Boston College and a Master of Science in Management from The Johns Hopkins University. He is an alumnus of both the Police Executive Research Forum's Senior Management Institute for Police and the Major Cities Chiefs Association Police Executive Leadership Institute. He also attended the negotiation program at the John F. Kennedy School of Government, Harvard University. He is a member of the Police Executive Research Forum, the International Association of Chiefs of Police, the Maryland Chiefs of Police Association, and the Police Chiefs Association of Prince George's County. Hank also serves as an Executive Fellow with the Police Foundation. In January 2016, Hank was appointed to the State of Maryland Vehicle Theft Prevention Council by Governor Larry Hogan. He is a past President of the Maryland Association of Police Planners.
Date Created: August 30, 2019